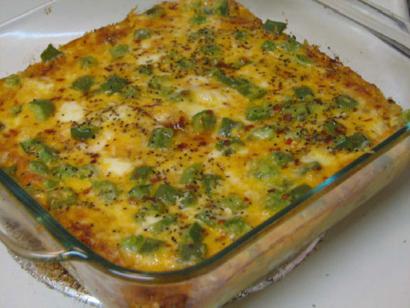 Ingredients:
Big Potatoes – 2
Ginger minced – 1 Tbsp
Green Chilies – 2
Black Pepper – 1 Tsp
Salt – 1 Tsp
Italian seasoning – 1 1/2 Tsp
Mozzarella & Cheddar cheese – 1 Cup each
Tomatoes chopped – 1
Capsicum/Bell pepper chopped – 1
Olive Oil – 1 Tbsp
Preparation:
1. Peel and grate the potatoes.
2. Add ginger, green chilies, salt, black pepper & Italian seasoning to the grated potatoes.
3. Preheat oven to 400 F/ 200 C.
4. Grease a 9 inch square baking dish or alternatively line the baking dish with foil paper and then grease it with oil. (Lining the baking dish with foil paper, helps while taking out the pizza from the pan and easy clean up).
5. Transfer the potato mixture and press it firmly to the baking dish.
6. Bake till the potatoes leave & become brown from the sides of the baking dish around 20-25 minutes. Take out from the oven.
7. Mix the cheese, tomatoes and bell pepper and press it evenly over the baked potatoes. Put it back to oven till the cheese melts.
8. Sprinkle with black pepper if desired. Drizzle some olive oil on top of it.
9. Cool a bit before you cut into pieces.
10. Offer to Krishna with any soup or salad of your choice.
Yield
9 pizza pieces of 3 inch square each.