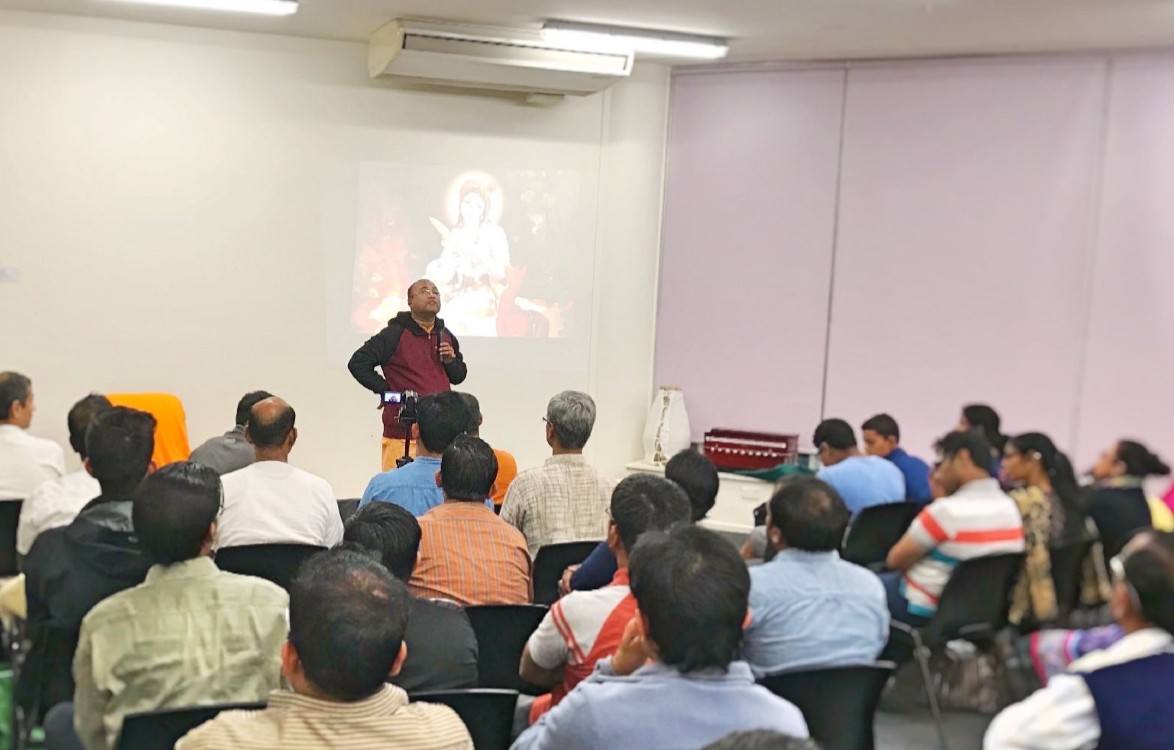 "Material enjoyment resides in the novelty of things," he said. "We may be excited about a new phone or a new car, but how long does it last? A week? A day?"
"—this is the nature of material enjoyment. It is fleeting. But this is not the case with spiritual bliss. Lord Krishna is always new!"
Praneshwar Prabhu's inspirational lectures were also always new – always fresh in the minds of Wellington devotees.
Prabhuji's schedule in Wellington was packed tight with lectures to cover three chapters of the Bhagavad Gita as part of the Bhakti Sastri course for Wellington devotees. In addition he was also managing seminars at Lower Hutt as part of the Journey of Self Discovery program. The two-part seminar – "From shooting star to pole star" – covered the essential steps required to become fixed in devotional service. His packed schedule was made possible by the logistical planning and cordial hospitality extended by H.G. Ambarish Maharaj Das and H.G. Anang Manjari Devi Dasi.
Many people tend to take spirituality in their stride, making it a secondary priority or even a hobby. But the importance and urgency of our spiritual progress comes to the fore in Praneshwar Prabhu's lectures. "Death can come at any moment. We don't have any control over it. Therefore it is important that we prepare ourselves. We need to have a vision — a high ideal. We will not become perfect in one day. But it is always important to stretch. We must stretch ourselves every day — and never be discouraged. If we fall down, it's okay. As long as we pick ourselves up!" His anecdotes and expert analogies also help to present and communicate complicated philosophical concepts in a way that is easy to grasp.
H.G. Praneshwar Prabhuji has a Masters in Philosophy and Religion and is currently pursuing his Ph.D. Now a vice-president at ISKCON Indore, he shuttles between Indore and Gwalior, his service to the Lord only matched by his devotion and desire to give Krishna Consciousness to those who seek it. The quiet and humble H.G. Madhav Kumar Prabhu always renders service along with him. His skill at the mrdanga and Praneshwar Prabhu's melodious voice come together during kirtans that resonate through the hearts of listeners with purifying devotion.
The discourses during those sixteen days would be fondly remembered by the devotees who were fortunate to receive them. Prabhuji's words of encouragement always reinvigorate the community with urgency and inspiration to carry on with renewed faith, on the path towards permanent happiness.